Pies
00000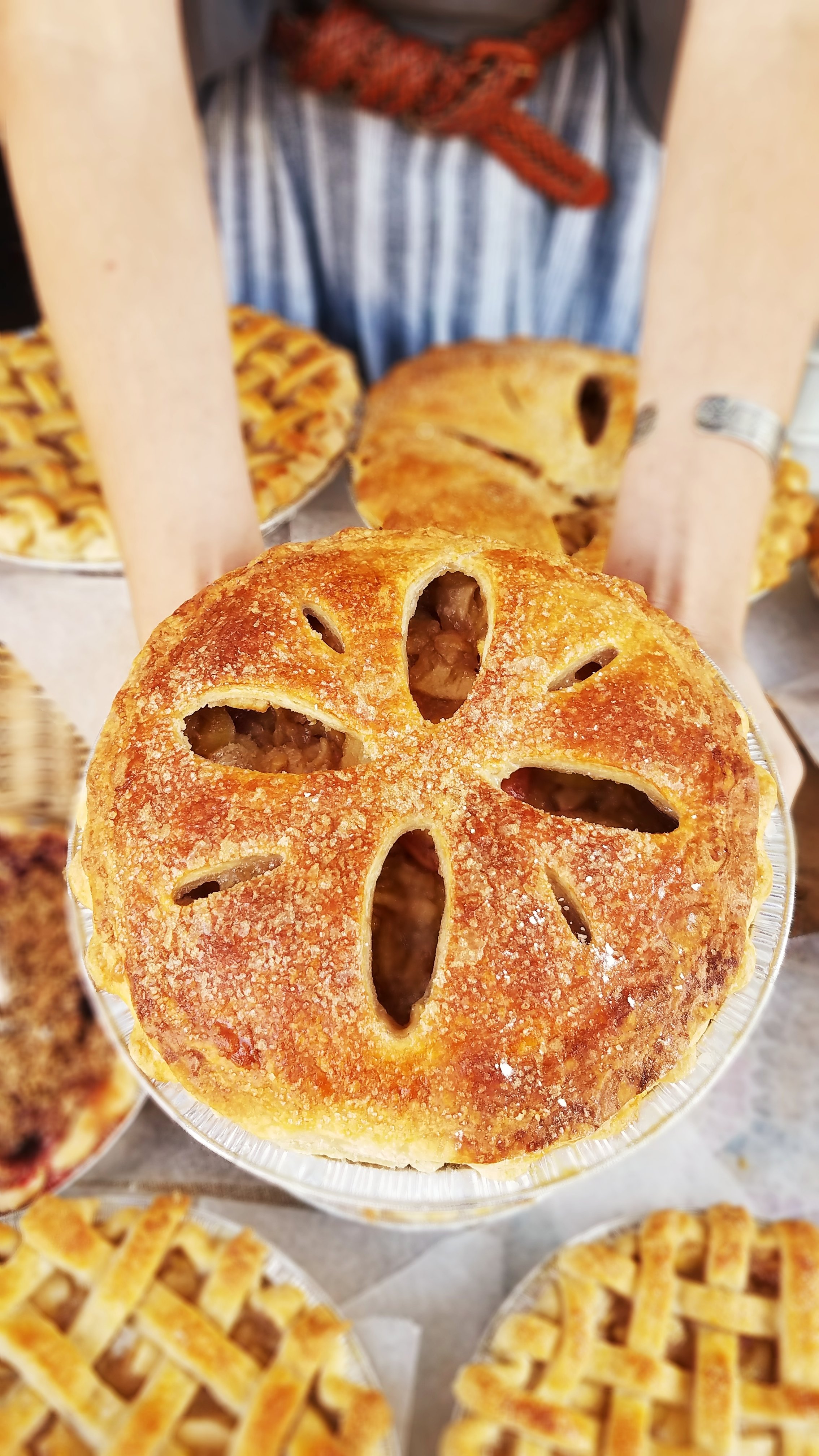 Our fruit pies are made from all local, organic fruit from the North Fork Valley. We work hard during harvest season to process and preserve all the local fruit we need for winter - so you can enjoy the flavor of fresh Paonia peaches, apples, pumpkins and more all winter!
Size: 9" deep dish pie
Servings: 6-8
We are currently offering the following pie varieties:
Apple Pie: We combine and peel the best Organic Paonia apples we can find for optimal texture and add our just the right amount of sugar and spice. Enveloped in an all butter crust - flaky and delicious and not too sweet. These apple pies are delightful on their own and just about the best taste you can imagine warmed up with a scoop of vanilla ice cream,
Peach Pie: Paonia peaches are truly one of Colorado's greatest offerings to the world. We are lucky to live in a place of such abundance and we love every sweet and juicy bite of it. Our peach pies are made with Organic Paonia peaches that are harvested during their peak late summer season and then processed and frozen for use year round in the bakery. A true taste of Colorado summer!
Pumpkin Pie: Pumpkin pie just the way it should be - smooth, sweet, and gently spiced in an all butter crust. Our all-organic pumpkin pie is made from real pumpkins grown in our own backyard garden, roasted and pureed before chilling and preparing into a silky pumpkin pie filling.
Plum Pie: We use a special variety of plum in our bakery - Elephant Heart Plum. These plums are a deep ruby-crimson. Juicy, lush, sweet flesh. We feel fortunate to be able to get these locally and use them in our kitchen in this special way. Plum pie may not be a classic, but it ought to be. The color of plum, how it pairs with warm spices, and what a juicy pie filling it creates. We will personally be opting for Plum Pie this year!
Maple Pecan Pie: Organic pecans and Vermont Sticky Maple syrup pair beautifully to form the foundation of our take on the classic pecan pie. This rich, sweet filling is poured into our all butter crust and baked carefully. The Vermont Sticky maple syrup is a favorite in our kitchen and let's us delight in this treat without resorting to using corn syrup.
Pie Variety
Apple Pie (30) Peach Pie (30) Pumpkin Pie (30) Plum Pie (30) Maple Pecan Pie (35)
Top Crust Options
Full Double Crust (0) Lattice Top Crust (0) Oat Struesel Topping (0) No Top Crust (Pumpkin, Pecan) (0)